MINING
It's safe to say that the mining industry plays an important role in the economy. After all, people need coal to help with energy needs, gold for jewelry, and iron ore for steel and other tools. The mining industry is vast, and they require special equipment and materials to get the job done. A supply chain for a large mining operation can be incredibly complex. Emergency Rush Logistics offers time-critical deliveries for the mining industry that includes but are not limited to the shipment of oversize and heavyweight loads, parts, and chemicals to your location, even remote locations. Let out team help your mining business avoid costly downtimes. Call for a free estimate today!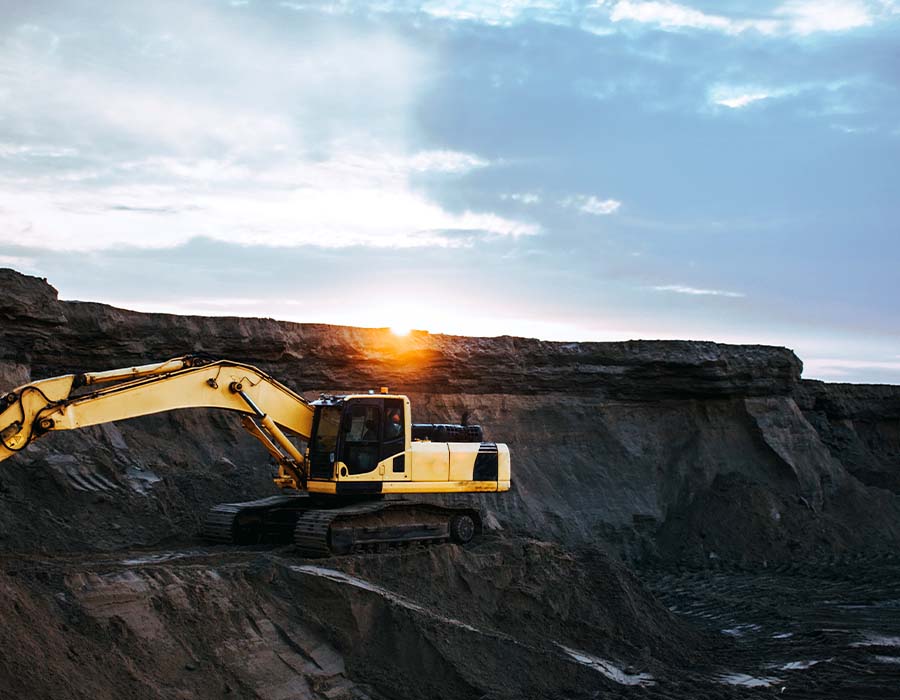 OIL & GAS
If you are on an oil platform in the middle of an ocean and need supplies, American Airlines can't exactly deliver them to your door. Instead, you'll need a remote time-critical delivery system that can ensure the supplies, parts, and other necessities of an oil and gas operation are met. Emergency Rush Logistics offers exceptional time-critical deliveries to oil and gas company locations that are often remote and hard to get to. From drilling bits to sand, chemicals, and more, we can deliver oil and gas components when you need them with our various time-critical delivery options. Get in touch for a custom quote today!
AEROSPACE
The aerospace industry can be complicated. And with safety as a top concern, it's important that you have a reliable and efficient time-critical delivery service that can ensure your parts arrive intact. Since aerospace parts and materials are usually made from advanced materials, such as titanium, nickel, aluminum, copper, zinc, and other metals, it's crucial that they are shipped safely and arrive promptly. These materials can be affected by weather, so you don't want them in a warehouse or sitting on a plane for too long. Some aerospace parts have magnetic properties that can sustain damage. It's best to call for expert time-sensitive delivery for your aerospace parts. Call today.
PULP & PAPER
Many people wouldn't necessarily think that pulp and paper needed to be shipped quickly. However, if you think about it, these materials are components in so many other materials that a real crisis in manufacturing can occur without them. Plus, pulp and paper have defining characteristics that make them temperature sensitive. For example, excess humidity can totally destroy your pulp and paper shipment. When it comes to this industry, let Emergency Rush Logistics help ensure your shipments arrive in their original condition and promptly, ensuring no negative impact to your bottom line. Call today.
HIGH-TECH
High-tech shipments and deliveries require a premium logistics solution, which only a time-critical logistics delivery company can offer. With computer chips and semiconductors crucial to the operation of hundreds of electronic devices, even a slight delay can have a major impact on supply chain needs that can then ripple throughout the economy. However, when you partner with Emergency Rush Logistics, our 24/7/365 high-tech logistic delivery services will ensure your goods arrive safely and on-time. Get a quote today!
MILITARY
It almost goes without saying that the military has a lot of need for time-critical deliveries, and can you really see the post office being entrusted to deliver top military secrets? Emergency Rush Logistics offers our time-critical delivery services to the military, including charter, direct drive, next flight out, and on-board carrier services. As always, our customers' information remains secure and confidential, giving you peace of mind as your goods travel across the nation or worldwide. Anything from supplies to papers our team can handle, and we work diligently to ensure no delays. With our SOPs (Standard Operating Procedures) that we use for every delivery, you can rest assured every contingency is accounted for. Give us a call today!
GOVERNMENT
Communication within government entities is key, which makes time-critical deliveries of sensitive documents crucial. Plus, when crises occur, the ability of the government to respond quickly is essential for both public health and safety. Emergency Rush Logistics is proud to partner with government entities and local and national government in order to help meet their time-critical delivery needs. With our years of experience and expertise, you can rest assured that your deliveries will be on-time and will arrive safely. Let us help with coordination to give you peace of mind. Get a quote today.
AUTOMOTIVE
The automotive industry relies on time-critical deliveries in order to ensure no delay in their manufacturing processes that could not only delay production, but also have a ripple effect throughout their entire supply chain. Emergency Parts Logistics offers automotive time-critical delivery services that ensure your parts and other goods arrive safely and on time. With our many types of time-critical delivery options, you can choose the one that works for you and your needs for that particular project. We can help with advice, and we offer custom quotes. If you need your automotive parts delivered quickly and effectively, get in touch with us today.
CHOOSE EMERGENCY RUSH LOGISTICS TODAY
Emergency Rush Logistics can't wait to help you with all of your time-critical delivery needs. We understand that in the 21st century, everyone is interconnected, and a delay in one process can affect so many more. Our expert team has years of experience in delivering goods on time and without delays. We understand how to effectively navigate customs to avoid delays, and we can help deliver to remote locations, too. We offer special projects and international time-critical deliveries. There is truly no limit to our capabilities for logistics. We aim for no delays, penalties, or loss of revenue. Call for a custom quote today!